Portrait artist wanted? Professional Artists & Portrait Painters Sketchus
What do we offer? Not just a portrait artist!
Are you really looking for an experienced portrait artist? Are you looking for the perfect portrait for your loved one, your pet? Having a portrait drawn by Sketchus is much more than ordering a picture for the wall. At Sketchus-Portrait you get real works of art - Authentic drawing .
Portrait artist Sketchus - Our family
The Sketchus Portrait Team was founded by two friends and architecture students, Tu Ho and Hoa Tran . We combine the love for art and design, as well as the desire to set up our own company to share this passion and joy with you.
MA Hoa Tran Professional artist, portrait artist
Hoa Tran is your portrait artist in the Sketchus team. She comes from a family business and always enjoyed working in customer contact. Already in school he was interested in art and drew in her spare time. It quickly became clear to her that creativity would play a primary role in her professional future.
Today, Hoa Tran follows her passion at Sketchus.de to bring customer and art together.
MA Tu Ho Architect, Portrait Artist, Husband of Hoa Tran
Tu Ho is the artist in the Sketchus team and initially taught himself to draw. Even as a child, he was able to put a smile on his family's lips with his works of art. In the last 16 years he has already completed a large number of commissions and gained experience in the field of portraiture. In 2017 he came to Germany to deepen his artistic skills and to make others happy with his artworks.
What is important to us?
After we met during our studies, we realized that not only our friendship and love for design, but also our family values ​​connect us. We both grew up in a big family with lots of animals. With Sketchus.de we want to turn our passion into a profession and offer all animal lovers and family people the chance to capture moments together in a work of art for eternity.
Sketchus Portrait - SKETCH US - Our Philosophy
For the love of animals and family

We at Sketchus.de believe that four-legged friends enrich our lives positively. They accompany our everyday life, love us unconditionally and are a full part of the family. With Sketchus.de we capture your beautiful moments and preserve them for eternity. This gives your four-legged friend a place on the ancestral wall.

For the love of art

Individuality, creativity, design - Sketchus.de is responsible for these things. Art speaks every language. We want to inspire you with a personal, passionate, hand-made drawing for art and also speak your language. Therefore, we only work with high-quality materials and manufacture each product individually.
Authentic drawing from photo
At Sketchus.de, art is in the foreground. We work exclusively with high-quality materials and manufacture your work of art individually. In addition, we do not want to make a copy of a photo, but create an artistic memory that you and your family can enjoy for years to come. You will receive the original drawn in pencil, not simply copied or digitally generated by the computer.
Draw a portrait - last minute delivery
Do you need your sketch or drawing very quickly because you need a birthday gift for a very special person? Our professional artists can produce your artwork within two days and have it delivered afterwards. We offer an express service instead of the usual 20 to 100 days.
Did you bring a little more time? Wonderful, we'll match the price and you'll receive your artwork within a month.
Happiness Promise from Sketchus Portrait Artists
You are not satisfied with your order? Because you are important to us as a customer, the Sketchus team is always there for you. We offer each customer a preview or involvement in the manufacturing process, as well as opportunities for improvement and goal-oriented solutions to see you happy with your work of art in the end. We draw until you are satisfied and try to implement your wishes.
And if everything doesn't work out, we guarantee you a right of return with a refund within 30 days.
Portrait artist wanted? No matter where you are, Austria or Switzerland, we are always with you!
There are hundreds of thousands of good artists, portrait painters and portrait artists in Germany, Austria, Switzerland and millions of people around the world, so it is difficult to decide where is the best place to have your portrait drawn. You can compare the following criteria with our points:
| | |
| --- | --- |
| experience | 16 years, 11,000 works of art, since 2005 |
| delivery time | We offer express service production in just 1-3 days |
| satisfaction | We draw until you are satisfied and try to implement your wishes |
| creativity | We don't make a photocopy like a camera, we create an eternal special moment |
| original | You will receive the original hand-drawn in pencil, not simply copied or digitally generated by the computer |
| Price | We have a wide price range depending on the size or the motif you want, but from 40 euros we draw a special memory in A4 to bring a smile to your families and friends |
| Shipping | You don't pay any shipping costs with us |
| Secure payment | Order and pay online without hesitation, you can pay relaxed on account or in installments. |
| extras | We offer a framing service with gift wrapping. So you don't have to worry about packaging and a picture frame. We would be happy to advise you on that. |
| About template and motif | We can work with any template, but the motto is the higher the resolution, the more creative freedom and possibilities we have |
| Unique drawing | With your original Sketchus drawing you will receive a certificate of authenticity that guarantees you the authenticity by the artist and the Sketchus team |
The Sketchus team is created by portrait artists art lovers
Our team consists of a network of portrait artists around the world and in the region such as Germany, Austria, Switzerland and Vietnam. We have carefully ensured that each artist has experience and passion for creation. We are really well trained artists at art schools, not copiers.
Our portrait artists look forward to working with every client
The Sketchus Portrait team wants to meet all your wishes and needs. All of our artists are professional and can offer you first class quality. We specialize in turning your favorite photos into masterpieces. All artworks are also 100% hand drawn. Every time you choose us, we strive for your complete satisfaction and want to create something great. Our mission is "For the love of animals and family and keeping alive the traditions of hand-drawn art". We still believe in the beauty of craftsmanship, which can never be replaced by modern computer software. The passion and love for drawing has brought us to this day that with will, passion, hard work we can realize the dream as a portrait artist and help people to capture their important moments of the past, present and future, so that they are motivated and happy are fulfilled.
How to distinguish professional and amateur portrait painters?
Wondering how to find famous portrait painters? And why Sketchus portrait painters Hoa Tran & Tu Ho?
1. We - Tu Ho & Hoa Tran are experienced & famous portrait painters
If you want to turn your photo into a painting, you first look for someone with many years of experience in this field. This art is different from other types of art. The artist must have good artistic skills and clear eyes for composition, composition and creativity to draw the painting more beautiful and emotional. Portrait paintings are not photocopies of photos. There are many people who are good at copying, but actually they have no art training and their work is often very rough.
Tu Ho & Hoa Tran - Portrait painter & portrait artist
2. We are portrait painters with good workflow
You should find out how the process of the artist works. For example, many professional artists offer online system features that allow you to upload your photos online. From there, the artist can manage all the status information and wishes of the portraits up to the point of delivery. Changes and other inquiries are processed online. This type of service is typically less expensive and faster than other traditional management services.
3. We are portrait artists with a satisfaction guarantee
If you want to draw picture , please find a professional artist who can ensure your satisfaction and meet your needs. In fact, very few artists have refund policies. Because art is difficult to judge and every customer has a different taste. Usually, artists can't just give you a full refund if you're not satisfied. Precisely because it is also a matter of a personalized assignment. So if you have no experience ordering paintings, we recommend that you invest time and money in the right people, then you avoid complications by drawing a picture twice or needing twice the time in urgent cases.
4. Sketchus portrait with the greatest flexibility in terms of painting time/ production time
If you want to find the best portrait artist, ask them how long it will take them to draw your picture. Will you reach the desired time? Professional artists should have a stable timing arrangement. For example, there are many draftsmen who offer express drawing service within 2 to 4 days. Of course, you have to pay a little extra for it
5. Sketchus portrait painters that give you a variety of pricing options
The price of a portrait painting depends in part on the time it is completed. That a sketch portrait is cheaper than a premium drawing doesn't mean that a sketch isn't as good as the premium can be, rather with this sketch style the artist takes less time to perfect it but all the factors like proportions , resemblance to original, lighting, composition ... are still assured. And the portrait still has a quality and aesthetic of minimalism, freedom and one's own style.
Looking for famous portrait painters? Conclusion:
It's not difficult to find someone who can paint oil portraits , but it's not easy to find a professional artist that you like. If you still have questions about finding a custom portrait artist, please feel free to contact us! Our Sketchus team has always worked hard to meet every need of every customer. We offer a simple, clear, transparent online order selection and our Sketchus drafting team is happy about every new possible drawing project with you!
Are you really looking for a famous portrait painter in Germany, Austria or Switzerland?
We - Sketchus portrait painters have to have special skills. There are many good artists who can paint all kinds of paintings such as landscapes, still lifes and abstract paintings. But not everyone can paint a good portrait that moves you in the subconscious.

Careful observation, the exact observance of proportions and the knowledge of what constitutes plasticity and shaping in the face determine the overall appearance on paper. A beautiful portrait drawing is also a creative process.

The special ability of Sketchus portrait painter is to immediately see the deep connection from the template
We have already experienced over 11,000 different templates for the work of our customers throughout Germany, Austria and Switzerland. We are confident to fulfill your wishes and ideas with full satisfaction and guarantee of enthusiasm.
Sketchus Portrait
Telephone: 0171 5816139
Email: info@sketchus.de
Clausstrasse 2
65812 Bad Soden am Taunus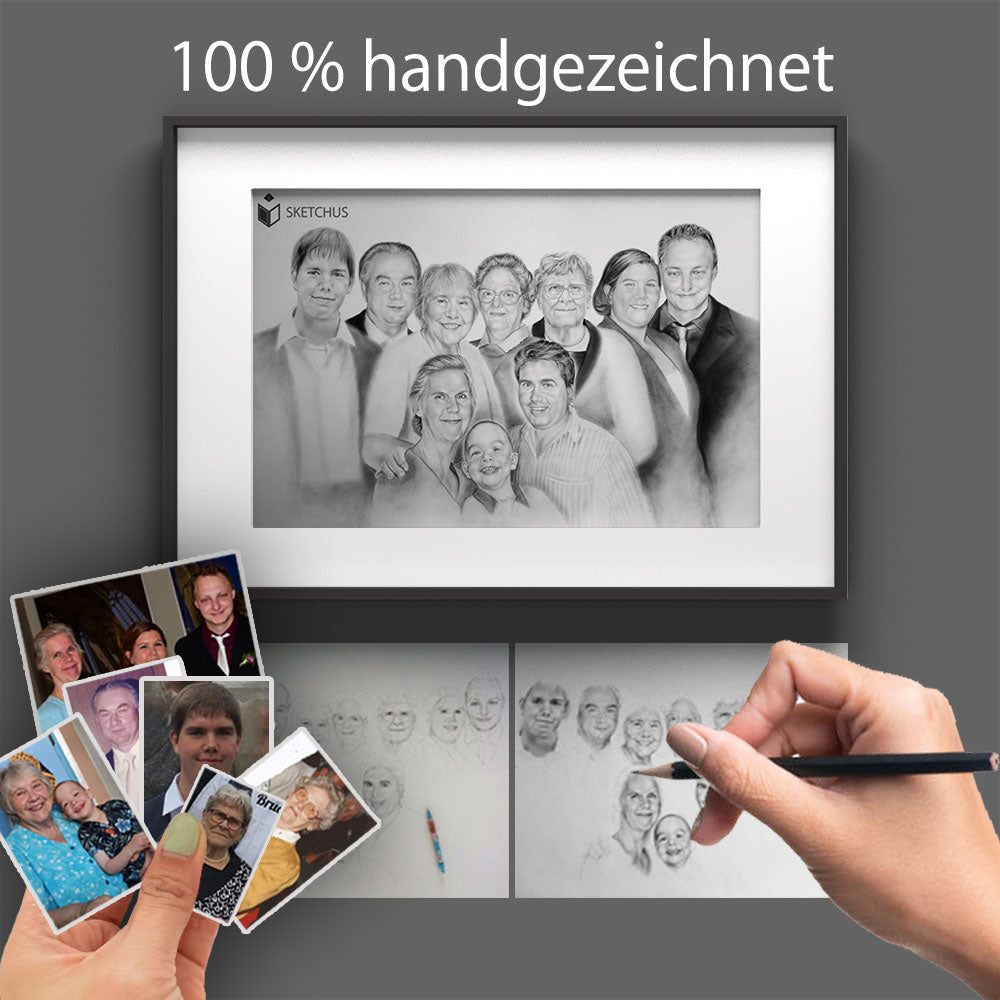 Let us draw your picture
Our Sketchus team specializes in creating a unique portrait from several photo templates that perfectly captures the special moment.
Not only can we turn any template you want into a work of art, but we can also make it feel like everyone was there in the moment.
Let us help you capture that special moment forever. Have a picture drawn from €49
draw a picture