Colored pencil & pastel drawings for beginners
How to distinguish colored pencil drawings?
The colored pencil drawing is somewhat similar to pastel painting in terms of color application. However, unlike colored pencils, pastel chalk can be easily smudged, but does not produce as fine color applications as colored pencils. The colored pencil drawing is usually shaded, which makes the paper structure visible and the typical colored pencil drawing is created.
Colored pencil - exactly with the tip
The colored pencil can also be drawn exactly with the tip, which makes the drawing look like it was painted. Large areas can also be covered with the water-soluble watercolor pencils. The colored pencil drawing is mainly used for illustrations in graphic design or as a mixed technique with watercolor paints.
The most important tool for colored pencil portrait
The most important tool for a colored pencil portrait or drawing are of course colored pencils. A distinction is made between artist and studio quality colored pencils. High-quality pens for artists and graphic designers are characterized by their high proportion of color pigments, which ensures strong, intense colors. Although the pens are set rather softly, it still enables precise drawings.
Colored pencil - animal drawings
With animal drawings, it is also possible to depict smaller details or individual hairs, since the colored pencils can be sharpened. However, large colored areas are a little more work-intensive to design with colored pencils. For this purpose, the Schummer colored pencil drawing technique is used.
Abstract colored pencil drawings with colored pencils
With colored pencils you can make abstract colored pencil drawings or colored colored pencil drawings of animals.
Colored pencil portrait - There are many techniques
There are many techniques, such as hatching. In crayon drawings, hatching is systematically arranged strokes that are usually drawn quite loosely from the wrist. The brightness of the surface can be determined and varied by the width and the distance between the lines. In addition, the effect can be controlled with the help of different superimposed hatchings.
Although the surface consists of individual lines, in the eye of the beholder they combine to form one surface. Black hatching on white paper, for example, gives the impression of a gray area. The most common hatching styles include parallel, cross, and quick hatching. In parallel hatching, the strokes are drawn in one direction and parallel to each other. Many colored pencils can also be blended into one another so that lines can no longer be seen.
What exactly is pastel painting?
So, typically when painting pastel, you paint with pastel chalk on a rather rough paper or mostly handmade paper. Rough paper is used because when painting pastels, fine dust of color is applied to the paper, which simply sticks better to rough paper and is still super easy to smudge and mix with one another.
When pastels are made, a binder is added to the pigments so that they can be pressed into a stick shape. Kaolin, resins and other substances are used as binding agents. Today's manufacturers do not disclose the exact composition of the binders. At least in earlier times, gruel, glue, gelatine, gum arabic, gum tragacanth, emulsions, soapy water or skimmed milk, honey and rock candy were also added to the pencils
The adhesion of the pigments on the paper is very weak, which is also the reason why pastels are very sensitive.
Pastel painting at Sketchus
The colors are applied in dusty layers and smudged with fingers or special brushes. In order to create adhesion at all, the painting surface has to be rough. Handmade paper, Canson and Ingres paper, Sansfix pastel or passepartout cardboard, handmade uncoated paper or paper with a velor surface are often used. The papers are available in different colors because the shade of the background during pastel painting affects the effect of the picture.
Pastel colors mix together extremely well on paper
This makes it credible to apply delicate color transitions and self-mixed color nuances. If the pigment application is too strong, the adhesion of the subsequent color applications decreases. For this very reason, several applications of paint are only delicately superimposed. In order to ensure that the pigments adhere to the painting surface, the pastels are treated with a fixative that can also be made on its own. The fixation takes place after the completion of a pastel picture or after divided work steps with layered application of paint. Despite the use of fixatives, the photos are extremely sensitive and are therefore often glazed to prevent contact with the surface.
The most important tools when painting with pastels are your fingers or a paper wiper. The colors are smudged and mixed with one another with the finger. In addition to the creation of soft gradients, a pastose application of paint (impasto) and dusting with a spatula are also credible with the pastel technique. Pastel painting is mostly used in combination with additional colors and technologies such as tempera, gouache or acrylic paints.
Colored pencil drawing & pastel drawing Order online at Sketchus
Hand Painted Portraits - Colored Pencil Drawings with a 100% Money Back Guarantee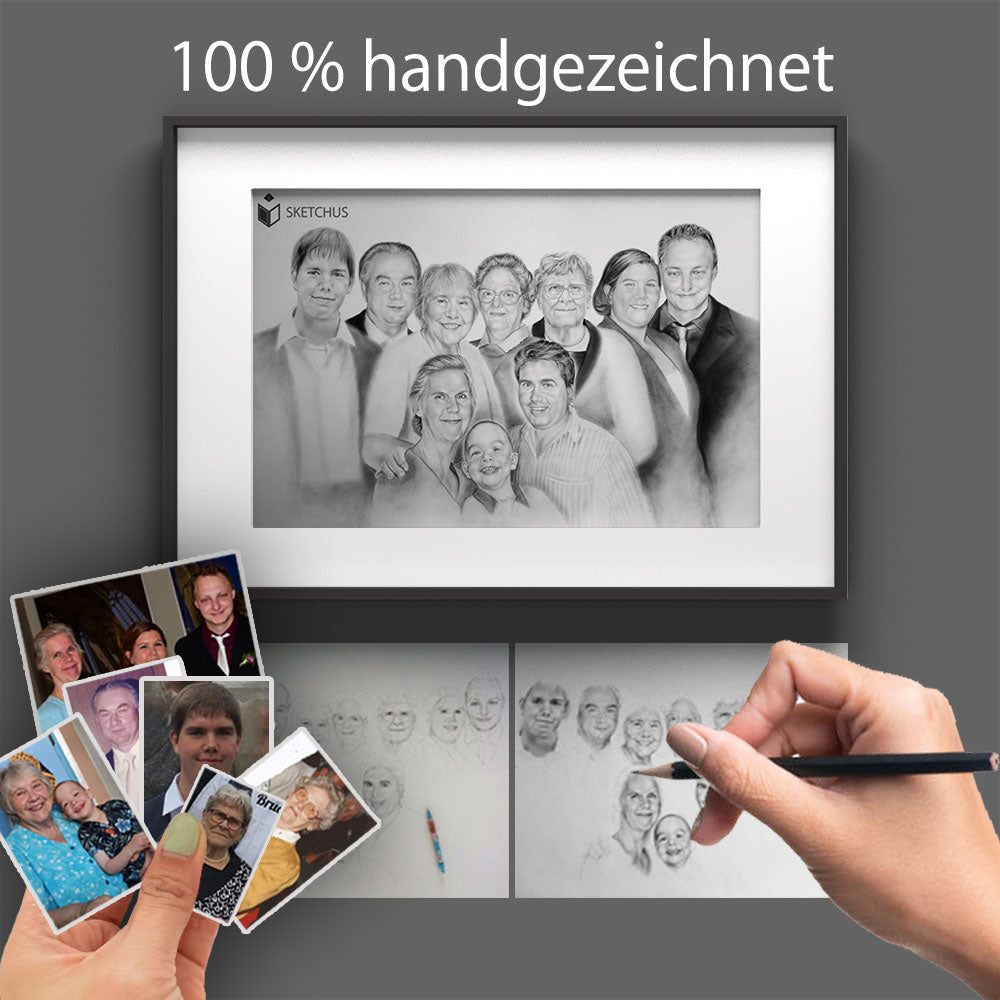 Let us draw your picture
Our Sketchus team specializes in creating a unique portrait from several photo templates that perfectly captures the special moment.
Not only can we turn any template you want into a work of art, but we can also make it feel like everyone was there in the moment.
Let us help you capture that special moment forever. Have a picture drawn from €49
draw a picture