Custom Painting Prices - How much does a portrait drawing and animal drawing cost?
How much does a portrait cost? Custom painting prices
Would you like to have a portrait drawn as a gift for your loved ones and family , but have never ordered it from portrait artists, the Sketchus team or other artists? Do you have some questions you want answered? The main question was: " How much does a portrait cost? ' But there will be more questions you should know. Read on to find out more.
The cost of a commissioned painting , a portrait painting , depends on the size, the number of people (or pets) in the picture and the experience of the artist. A portrait in premium style is between €65 and €500 (large A4 formats)
Note on price: You should not have a picture drawn that costs more than 5% of your monthly income. For example, if you make $3,000, you might want to order a painting that costs about $150. So you can enjoy and admire the work to the fullest.
We can divide the cost of custom painting into four levels
Have a portrait painted - prices for portrait paintings:
| | |
| --- | --- |
| €10-€50 | Draw with computer, smartphone, app, graphics tablet, filter |
| €50-€100 | Amateur painter drawing for hobby pleasure |
| €100 - €2,000 | Experienced portrait draftsman who professionally makes custom paintings |
| €2,000 - €10,000 | |
When we started in 2005, a portrait cost €50. For the same picture we now take 500€. What is the difference?
Level 1: Order painting Prices between 10€ and 50€
With these picture prices you have many options. Drawing with a computer, graphics tablet is very quick and easy to modify, since erasing and assisted drawing with software simplifies editing. Currently, when searching for the keyword " have a portrait drawn ", 70% of the results come up with the computer as a search hit. It reflects the technological changes in today's world. Art is limitless and this choice also corresponds to the value of the picture.
Level 2: Portrait painting costs between 50€ - 100€
You can find these artists on eBay Classifieds, Etsy, Instagram, Facebook. There is usually no framing service or picture wrapping service as a gift. There is also no professional website.
In this price range you communicate with the artists online via email or directly via social networks. You certainly have less guarantee for payment, invoice or delivery time. The paintings, drawings are not packed securely enough and may be damaged during transport. The artist will also try to make the most accurate copy. It will bring less creativity and fine-tuning. The size of the portrait is usually small. Inferior, plain paper is often used.
Most portraits in this price range are painted relatively quickly. Of course there are a handful of very talented and responsible artists working in this price range. But then you must be lucky to meet her.
Level 3: 100€ - 2000€ How to create a portrait at this price
At this price you start analyzing, looking at pictures and not seeing if the picture is similar or different compared to the original. You can find these artists on Instagram, Facebook, verbal recommendation or Google, reviews on Google
Picture framing, gift wrapping services are often available. There is a website that shows prices online and you can order online. The artist will attempt to create an accurate and creative reproduction that will bring the portrait to life and soul. You will work with a trained artist from art schools who is experienced and confident enough to create meaningful and monetary value for the client and artist.
The sizes of the portraits usually range from small to large and are made with a high quality drawing instrument that is made to create professional, high quality and long lasting drawings.
You will also likely be shown some conceptual images, progress and previews upon request and demand.
Stage 4: 2000€ - 10.000€ The process of composing the highest level of the portrait
In this price range you see more portraits than you order portraits.
Where can you find this artist? In Instagram, art galleries, museums, online search, media, art exhibitions, word of mouth, on the website.
At this price, of course, you get the perfect service. In this price range you are working with a well-known professional artist. The artist may have their own gallery and spend a lot of time and effort promoting their brand, art language, and collection.
The pictures are often drawn according to special requirements, for example restoring old photos or creating emotionally moving, abstract pictures of art that evoke special feelings. The artist will try to be more creative than a master copy. In this price range you get an image with a style of its own that makes the artist famous.
The portrait size is usually A1 size or larger and drawn with the highest quality materials.
Before you start, you will be asked if you have any special requests or requirements. And every wish is adapted. The drawing nonetheless exhibits strong, self-sufficient features of the artist's style.
Clients are usually politicians, business leaders, famous, well-known people and personalities.
How much does an artistic portrait cost? Portrait drawing on commission
Art is priceless. There are paintings that cost millions of euros. There are portrait paintings that only cost a few tens of euros.
Originals by great artists are extremely protected and stored in large museums.
However, you can easily print out the same digital images from the web for yourself or family.
The Sketchus-Portrait team creates works of art that are suitable for any family situation. Having families of our own, we know what it means and what it takes to touch our loved ones.
We will help you to create an original portrait with a signature as a premium drawing, portrait painting in oil or a minimalist, puristic pencil drawing .
On this occasion the website - the online shop Sketchus.DE was born
After many innumerable works, we kept getting the same questions:
How much does it cost to have a picture painted?
Although we know that the cost of custom painting is very relative, transparent, direct, online, you can configure and make your own choices. Sketchus Portrait would like to offer everyone the opportunity to have a portrait painting drawn out of love for animals and family for every suitable budget .
Prices for custom painting - have a portrait painted price list
| | | |
| --- | --- | --- |
| format | 1 head portrait | 2 heads - portrait |
| A4 20x30 | €49 | €69 |
| A3 30x40 | €69 | €99 |
| A2 40x60 | €99 | €139 |
Prices for a commissioned painting commissioned portrait - configure online

Animal Drawings Prices - Quick Overview Costs of animal portraits
The prices of animal drawings
The price of animal drawings depends on the size (A4, A3, A2...), style (sketch, premium, color...) and quantity. An animal drawing sketch costs from 50 € . Plus shipping costs and the final price
| | | |
| --- | --- | --- |
| format | 1 animal | each additional animal |
| A4 | €50 | +40 € |
| A3 | €90 | +€50 |
| A2 | €135 | +€50 |
| A1 | €180 | +€50 |
Sketchus uses high quality materials to draw a commissioned portrait
For portrait drawing, we usually use selected high-quality pencils and graphite on high-quality paper to draw your favorite people, faithful four-legged friends or family members. For commissioned portrait painting in oil, we also use selected oil paint brushes - high-quality brushes for oil paint.
What is special about Sketchus custom painting?
Experience: since 2005, 11 000 artworks ( update until 2021)
Delivery time: We offer express service production in just 3-5 days
Satisfaction: We draw until you are satisfied.
Creativity: We don't make a photocopy like a camera!
Original: You get the original
Custom painting : from 49 euros we create a special drawing
Shipping costs: You do not pay any shipping costs with us
Methods of payment: Order and pay online without hesitation
Extras: We offer a framing service with gift packaging
I still have questions about custom painting or prices?
At Sketchus you get all your questions answered. We advise you free of charge around the clock. Just send a message to Whatsapp or email to: support(at)sketchus.de. We will help you at any time without obligation.
7 Frequently Asked Questions About Sketchus Custom Painting Costs
The most frequently asked questions about our drawings & custom painting costs . We have collected and answered from for you. Maybe your question is already there. And if you can't find it. We are glad to help you.
Häufige Fragen
How much does it cost to have a portrait painted?
A picture for animals starts at €50 and people €65 per object. For each larger format, animal or person, there is usually an additional charge of 40 € - 50 €. Premium portraits are between €65 and €500
How much does it cost to ship Portrait?
We offer free shipping on all images. We only charge a surcharge for express shipping
How long does one draw on a portrait drawing?
This is a question with no exact answer. There are the pictures that you draw quickly and there are those that you draw slowly. We will provide an example and compare it to different types of paintings to give you an overview. e.g. the time for 1 drawing with the format A3 30x40 by 2 people takes:
| | |
| --- | --- |
| 40 hours | |
| 20 hours | |
| 10 hours | For drawing with pencil and charcoal |
| 01 hour | For computer drawing |
| 05 minutes | For drawing with filters or apps |
At Sketchus, portraits are usually drawn according to order or just in time. You will receive your original artwork within 4-7 days on average. With a small additional charge, we can produce your picture in 2 days express time. If you brought a little more time with you, you will receive your work with a price advantage within 30 days. This gives you optimal planning security.
What sizes are offered for custom painting?
Die Größen orientieren sich an den Din A4 bis A1 Formaten. Die Abmessungen sind 20x30, 30x40, 42x60 und 60x84 cm.
Is it possible to combine several portraits? How much is it?
We create the best image compositions to capture your loved ones and friends in one work. Compiling Sketchus is free. Write to us!
Who are the portrait artists behind Sketchus?
We are architects, interior designers, designers from Vietnam & Germany with a master's degree in Germany and simply artists with passion. We have the dream of bringing families, people and animals together. We have received prestigious awards in design, art and architecture competitions from around the world and create new art every day to inspire you and your loved ones.
Read more: Sketchus Portrait Artists, Hoa Tran Family & Tu Ho
The picture is too bad and blurry, can it be drawn?
We have been working as artists for more than 15 years. We can always create beautiful artworks from a template as long as the photo has an emotional meaning for you or brings back a good memory
Of course, a high-resolution, non-blurry motif offers us more design options. A total work of art from several templates and motifs is also no problem for us. Feel free to write to us by email or Whatsapp, we will be at your side with advice and action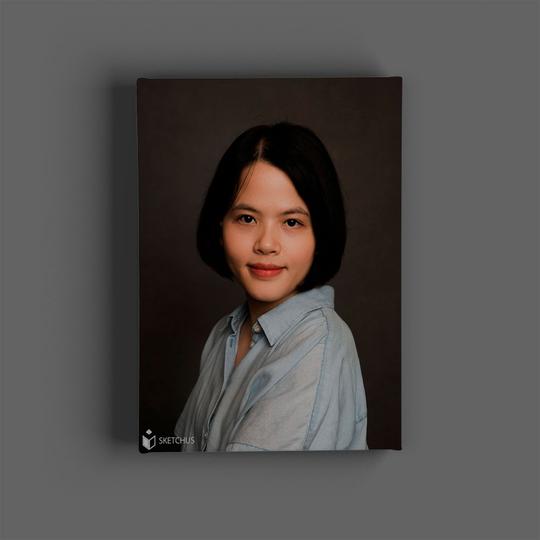 I'm Hoa Tran , Sketchu's artist😊😊😊
My husband Tu Ho & I, we draw each of your templates as a high-quality portrait and can also create many of your pictures into a great work of art. You can find examples and prices here and configure them directly online😊
draw a picture