Baby Drawing - What does it mean to have a baby draw? child portrait
Even for a professional portrait painter it is very difficult to draw a portrait of a newborn baby as 0-3 year olds develop very quickly, which means the face changes from day to day. Baby faces with bright, wide eyes and innocent smiles can warm the most iron hearts.
We are very happy to create such beautiful motifs as children's portraits
However, there is some feedback from customers that the painting does not match the child in real life. With 15 years of experience, with thousands of child portraits & baby portraits , we hope you choose the right template with the following points, so that we can create the most beautiful and satisfying portrait drawing for you.
- Choose clear photo templates that clearly show the characteristic features of the baby, child, such as: B. Dimples, a bright smile, heart lips, etc.
- You should choose a template where you can see your child from all angles as in reality. The photo should be bright enough, close enough and clear. Please send us several pictures of your baby and choose the one you think most closely resembles the baby.
- Do you accept the fact that a drawing corresponds 100% to the photo, but the photo itself does not correspond 100% to the baby you watch every day. A baby's artwork is unique and reflects the baby's personality through the artwork, not like a camera that just copies.
- Please choose the most recent photo! Children grow up so fast, compare your your baby with the photo 6 months ago or 1 year ago, you will realize they are like two different babies, so please choose the templates that are new and up to date.
Have baby paint with deceased grandparents
When we draw a child's portrait, we use the lightest of hand movements while drawing to capture the baby's soft and delicate complexion. With so many Sketchus clients, a beautiful child's portrait will bring twinkle in their eyes and put a smile on their face. It is very difficult to draw grandchildren with deceased grandparents, since several photos are combined into one painting. The bigger challenge is making the overall look of the portrait come alive and natural. So help us to create a unique work to capture the most beautiful moments in your family's life.
Child Portrait & Baby Drawing
A newborn gives us many new impressions, feelings of happiness and responsibilities. The most important thing is to take care of your baby so that we can be good parents. But we parents don't have to be perfect. Babies bring all the happiness to the family. You will recognize true love when you hold your own child in your arms. They are innocently cute and you want to cuddle them. The best experiences are when you see how babies develop. It starts with the first smile and the first crawl. You only get such moments once and if you should capture them for eternity, just have a baby pencil drawing made so that the beautiful memories are preserved.
Child portrait – what does that mean?
Children are mostly like angels and innocent. Still, we shouldn't let them fool around. Parents will not always find it easy to raise a child, because you always try to do everything perfectly. Children learn best when they make mistakes, so don't try to take everything out of the child's way, but make a conscious decision to give the child the opportunity to find out for themselves. We adults can learn a lot from children, because children are carefree and unprejudiced, if you ask a child: "Are there foreigners in the kindergarten?" they will answer "No, there are only children." Children will always reflect the behavior of the parents be you aware of that. Have children's portraits drawn in kindergarten. For the child will only have this short period of growing up once.
Portraits of children fill you with pride and gratitude
But it is the beautiful moments that children give us when they have achieved something new, for example riding a bike for the first time or going to school for the first time. These special moments should be captured in a child portrait painting. You will notice how proud you will be of this moment and cheer for the development of your children. You will also notice how unique children are, because children are the most important thing. Give children beautiful moments by letting them experience a lot, because later they will not remember the most beautiful days in front of the television.
Drawing of baby- why does it matter?
A drawing specially for a baby has the background to address its future, a baby is immaculate and sweet, it is so lost if you don't help it. But just because you love babies, you are always ready to give more.
Dad and baby drawing at Sketchus
Mother and Child - Baby Drawing at Sketchus
Mother daughter drawing pictures
Drawing line art: mother and children drawing pictures
Grandparents drawing - pictures and photos
Are portrait drawings good as gifts for children or grandparents?
As a rule, there is no restriction as to whether only adults, babies, children or grandparents should receive portraits. It is advisable to have a picture drawn for all those who are important to you. Children can dream more than many adults by drawing a portrait together with their superhero. Grandparents, on the other hand, are filled with pride and humility.
Order your family portrait now from Sketchus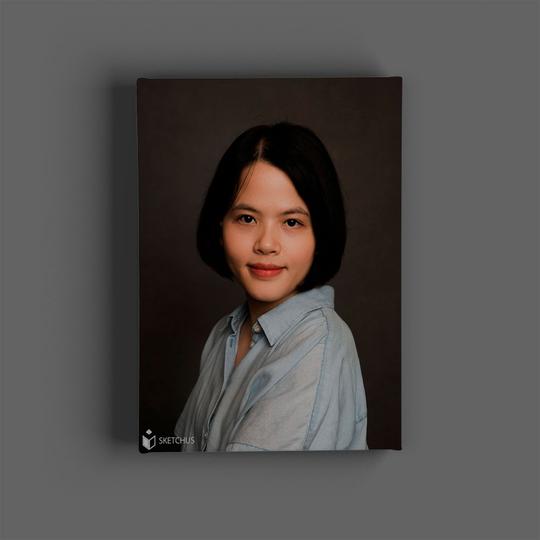 I'm Hoa Tran , Sketchu's artist😊😊😊
My husband Tu Ho & I, we draw each of your templates as a high-quality portrait and can also create many of your pictures into a great work of art. You can find examples and prices here and configure them directly online😊
draw a picture